Stewart Chapel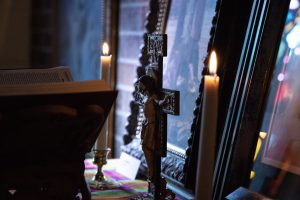 The primary purpose of the Stewart Chapel is to provide the Missouri Valley College community a quiet place for personal reflection and meditation.
Missouri Valley College's Stewart Chapel is open every Wednesday at 7:30 a.m. for a "30 Minute-Chapel." This provides an opportunity for the campus community to come together and start the day with a prayer as a family. We invite students, faculty, and staff to join us for a short morning devotion, a wonderful way to focus your time and attention on seeking God's guidance.
The Chapel may be reserved though the Office of the Chaplain. Access to the Chapel shall be in accordance with the following priorities:
Scheduled devotional times, social gatherings, ecumenical and interfaith activities
Individual use for quiet times
College instructional use
College sanctioned student clubs and organizations use
Weddings, Baptisms, etc. (no fee required)
Missouri Valley College welcomes and celebrates a broad range of faith traditions and spiritual perspectives. The Chaplain's campus ministry is serving the entire College community—students, faculty and staff of any (or no) faith tradition. As a College with Presbyterian roots, we have deep origins in this mainline Protestant tradition. Yet our student body is religiously diverse, reflecting traditions found around the world. Centered in Christ, Stewart Chapel proclaims God's love and serves students, faculty, staff by building an inclusive community.