MVC Announces Million Dollar Lead Gift for New Health Professions Facility
September 24, 2021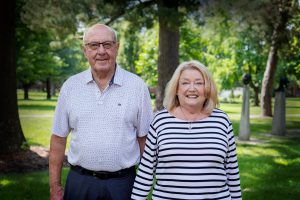 Missouri Valley College President Dr. Bonnie Humphrey has announced a one million dollar gift from Don and Julie Julien that will serve as the lead gift for a new nursing and health sciences facility on Missouri Valley College's campus.
"Gifts from alumni and friends of Missouri Valley College play an integral role in helping the college grow," said Dr. Humphrey. "Part of this growth comes with help from the generosity of Don and Julie Julien."
The Juliens provided the primary funding for MVC's DJ Rodeo Arena in August of 2014. They have given other generous gifts to the college including real estate and financial support for various projects.
"It just makes us proud that we can be part of it," said Don in response to being part of Missouri Valley's growth, "Julie's dad came to town in 1962 and bought the John Deere dealership and I'm sure glad he did. The town has grown. Missouri College has really grown, bringing in students from all over the globe…they're doing things right." Julie and Don both agree that Missouri Valley College has had a positive impact on the Marshall community.
Julie's passion lies in the field of nursing. As a retired nurse herself, Julie hopes this gift provides a pathway for the nursing program to flourish and continue to add other health-related programs in the future.
"It's great to be able to give back what this town has given to us and I'm especially interested in the nursing program, being a retired nurse," said Julie. "I think it's wonderful that it's here and I think it's wonderful for all the people I've seen graduate. It just makes me proud that this is a really good profession."
The plans include building a 17,000 square foot facility on the northwest corner of the Missouri Valley campus.  The building is designed to be used for not only nursing classes, but to also be available for health-related programs that will be developed in the future. The College is so grateful to Fitzgibbon Hospital for providing the space that currently houses the MVC School of Nursing. The program has simply outgrown the space.
Dr. Humprey also expressed that without great friends like the Julien's, Missouri Valley College and other colleges like it would struggle to stay relevant.
"This is a true testament to the legacy that Don and Julie Julien are leaving for Missouri Valley College and this community," Dr. Humphrey said.
Share the Story