Missouri Valley College Reports Enrollment Increase
September 19, 2023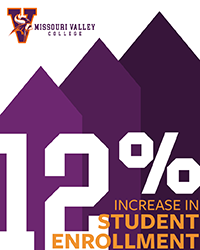 Missouri Valley College is reporting strong enrollment growth in nearly every area of the institution this fall.
New freshmen and transfer students grew 12 percent for the 2023 academic year, and returning students grew by six percent over the prior year.
The increases coincide with the arrival of Missouri Valley's 14th president, Dr. Joe Parisi, who spent the largest part of his career growing enrollment at Midwest area colleges. Parisi said he is proud of his admissions, athletics, and retention teams "who did the heavy lifting to make this growth a reality.
"So many colleges across the country are not seeing great numbers this fall," Parisi said. "We have a community, and a region, that is showing how much they value a Missouri Valley College education."
Parisi said there were many new features that attracted the new class, including big changes in student services, where the college spent over a $1 million on software that streamlines the enrollment, financial aid, and housing signup experiences.
Another key factor to the encouraging report is Missouri Valley College's new online presence, where several popular degree programs were added.
Share the Story