Office of the President
Dr. Bonnie L. Humphrey, President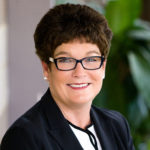 Welcome to the home of the Vikings! I am Dr. Bonnie Humphrey, the 13th president of Missouri Valley College. This is a place to make lifelong friends, inspire your love of learning, and propel you on a path to success. Valley is truly a wonderful place, and I invite you to get to know us.
I am often asked what makes Missouri Valley College special. It's our family atmosphere, very close-knit and supportive. It's our diversity. Students come to Valley from all parts of the United States and from countries all over the world. It's tradition and legacy. Valley was founded in 1889, and we're still going strong, evolving and changing with the times. Our real strength is our personalized education. We have faculty and staff who love Missouri Valley and love our students. The great education students receive here serves as a catalyst for the rest of their lives. Students also have the opportunity to be involved in a multitude of activities—athletics, student organizations, theatre, music—just to name a few. We are genuinely an institution where opportunity, desire, and ability meet.
It is my great privilege to share in the journey of Missouri Valley College and of the students who seek their degrees here. Every decision we make at the institution is based on what's best for the students and what will support the College's mission.
Come take a stroll on our beautiful campus. Call us or stop by my office—my door is always open. I hope you will come see what makes Missouri Valley special. It's a great day to be a Viking!