MISSOURI VALLEY COLLEGE'S MARSHA LASHLEY NAMED NAIA FACULTY ATHLETICS REPRESENTATIVE OF THE YEAR
September 15, 2020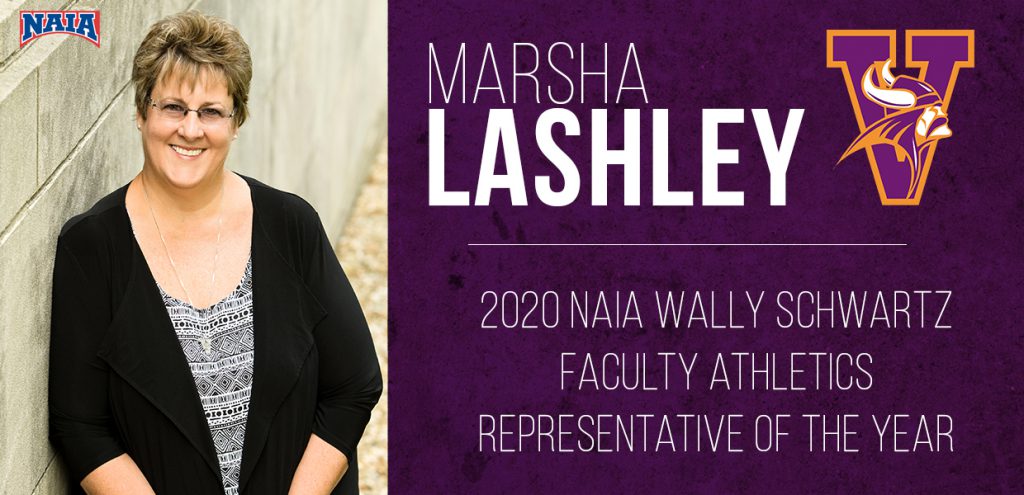 The NAIA held its National Awards Day on Tuesday and Missouri Valley College Faculty Athletics Representative, Marsha Lashley, was named the 2020 NAIA Wally Schwartz Faculty Athletics Representative of the Year.
The award honors past Vice President of Legislative Services, Wally Schwartz, and is given to a Faculty Athletics Representative who exemplifies the loyalty, enthusiasm, and honesty that Wally Schwartz had, and still has, shown on behalf of the NAIA. The award is given at the conference, independent, and national level.
Lashley began working at Missouri Valley in 1983 and spent the first 10 years of her career in Student Affairs as the Director of Housing. She moved to the academic side of campus in 1993 and became the Registrar shortly thereafter. Processing eligibility paperwork came with the position and Marsha requested that her role shift to the dual-duty setup of Registrar and FAR. She then followed the footsteps of Dr. Phyllis O'Daniels and became the Heart of America FAR around 2011.
"Everyone at Missouri Valley College is excited for Marsha in being recognized with this award," said Executive Vice President Tom Fifer.  "This honor is much deserved for Marsha, who always goes above and beyond with her work as an FAR.  Marsha's impact has also been felt at the conference level, and the National level, as she has played an important role in helping to shape student-athlete eligibility in the NAIA.  We are extremely fortunate to have Marsha at Missouri Valley."
Lashley's role has continued to grow at both the conference and national levels. She currently serves as a member of the NAIA Council of Faculty Athletic Representative Committee, the Heart Task Force, and is the chair of the NAIA Competitive Experience Committee.
Share the Story