Missouri Valley College Sports Information Director Named SID of the Year
June 14, 2021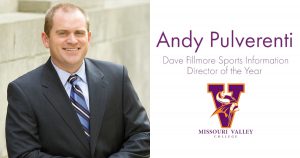 Missouri Valley College Sports Information Director Andy Pulverenti has been selected as the 2020-21 Dave Fillmore Sports Information Director of the Year for the Heart of America Athletic Conference. This award is voted on by the sports information directors in the conference.
The Dave Fillmore Sports Information Director of the Year award honors an individual who demonstrates excellence in all aspects of athletics communication including, but not limited to, social media, press releases, photography, statistical compilation, website updates, coordinating media personnel, and graphic design.
Pulverenti joined the Missouri Valley staff in 2012 and currently serves in a dual role as the Sports Information Director and as an Assistant Athletic Director. He oversees all athletic communications efforts for one of the largest athletic departments in the league and is tasked with providing coverage for nearly 30 varsity programs at MVC. Pulverenti has covered numerous programs on the national stage, including the men's soccer national title run this spring and football's battle through the NAIA Football Championship Series for several years. He has also expanded the digital footprint for the Vikings by creating a social media presence after taking reins of the department.
"Andy is very deserving of this award," said MVC Athletic Director Tom Fifer. "Everyone here at Missouri Valley has always recognized him to be one of the top SIDs in the conference as well as the NAIA."
Pulverenti is now eligible to be nominated for the award at the national level. The national winner will be announced publicly during the NAIA National Awards Day in September.
ABOUT THE DAVE FILLMORE SPORTS INFORMATION DIRECTOR OF THE YEAR AWARD

In order to honor its current sports information professionals, the conference introduced the Dave Fillmore Award after the 2013-14 academic year. The award is named after Fillmore, who served as the first SID at Evangel University in 1977 and as the league's sports information director from 1988-2003. Fillmore passed away on December 21, 2008, but not before being inducted into the Evangel Athletics Hall of Fame in 2007. He also won the Clarence "Ike" Pearson Award in 1999, the highest honor bestowed upon sports information directors in the NAIA.
Share the Story