Missouri Valley College Board of Trustees Announce Next College President
November 17, 2022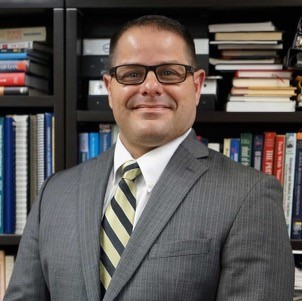 The Missouri Valley College Board of Trustees has announced that Dr. Joseph Parisi will be the college's next president.
Missouri Valley College employed the Association of Governing Boards (AGB) search firm, which specializes in services specifically for higher education institutions and foundations, to help facilitate the search for the 14th president of Missouri Valley College.
Dr. Parisi visited the Missouri Valley campus in early November and took part in employee and student forums as well as a community reception and student leader luncheon. Two other finalists visited campus for similar events in early November as well. Missouri Valley's Board of Trustees elected Dr. Parisi as the next president during a special board meeting on Friday, November 11.
Dr. Parisi currently serves as Vice President for Enrollment Management and Athletics at Central Methodist University in Fayette, Missouri. In that role, his responsibilities include financial and student growth management, education policies, education systems development and alignment, and strategy.
During his time at Central Methodist University (CMU), Dr. Parisi has led re-branding efforts, implementation of new one, three and five-year strategic enrollment plans and orchestrated the largest new student recruitment metrics in the college's history. He has been an active fundraiser at CMU, and secured one of the largest athletics-related gifts in history.
Prior to his tenure at Central Methodist, Dr. Parisi served in various admissions and enrollment management capacities, including Vice President for Enrollment Management at Lindenwood University in St. Charles, Missouri for 19 years. During this time, his responsibilities included management, policy, system alignment, and strategy development for admissions, financial aid and the enrollment management umbrella. Additionally, he oversaw the launch of new degree programs at Lindenwood that significantly contributed to the institution's enrollment growth.
At Lindenwood, Dr. Parisi developed and implemented a strategic enrollment management plan through program prioritization that resulted in the largest enrollment trends in the institution's history, including increases in applications, freshmen and transfer enrollments, adult student enrollments, online student
enrollments; cumulative GPA, standardized test scores, and freshmen retention. Other responsibilities included establishing and maintaining relationships with regional high schools, community colleges, and industries and providing leadership to admissions, marketing, financial aid, athletics, online programs, and extension education sites.
In addition to his administrative roles, Dr. Parisi has served as an associate professor of management in the Lindenwood University business division and chair for nonprofit administration. He also taught in the Education Leadership doctoral program. Dr. Parisi has served as a criterion chair for the Higher Learning Commission's approval process and served as a criterion chair on Central Methodist's HLC review team.
Dr. Parisi completed his Bachelor of Science in Nonprofit Administration at Missouri Valley College in 1994. He obtained his Master of Science in Business Administration, Nonprofit Administration in 1996 and his Doctor of Education in Instructional Leadership in 2011, both from Lindenwood University.
"The Board enthusiastically welcomes Dr. Parisi back to the Valley family," said MVC Board Chairman Susan Hoy. "Since his graduation in 1994, he has acquired the skills and experience necessary to lead Valley to further success, and also brings a love of the school and community developed during his early years here–a unique combination."
"Becoming the president at my alma mater is both humbling and exciting," Parisi said. "I look forward to returning to campus, engaging with the community, and building the relationships to help forge a bright future for our college. Our faculty, our staff, and our coaches have done an amazing job and I can't wait to work alongside them and our board of trustees."
"Dr. Parisi will begin his transition duties as President Elect beginning in January 2023," Hoy said. "Dr. Bonnie Humphrey will continue as President until her retirement on June 30, 2023, after more than 20 years of outstanding service to Missouri Valley College. We look forward to celebrating her contributions in the months ahead."
"I am grateful for the opportunity to work alongside Dr. Humphrey for a time," Parisi said. "She has done a tremendous job leading the institution."
Share the Story