Machholz to be Inducted into NAIA Hall of Fame
September 19, 2023
The National Association of Intercollegiate Athletics has announced its latest induction class into the NAIA Hall of Fame, and selected is long-time former Head Coach of the men's wrestling program, and current Missouri Valley College Athletic Director Mike Machholz.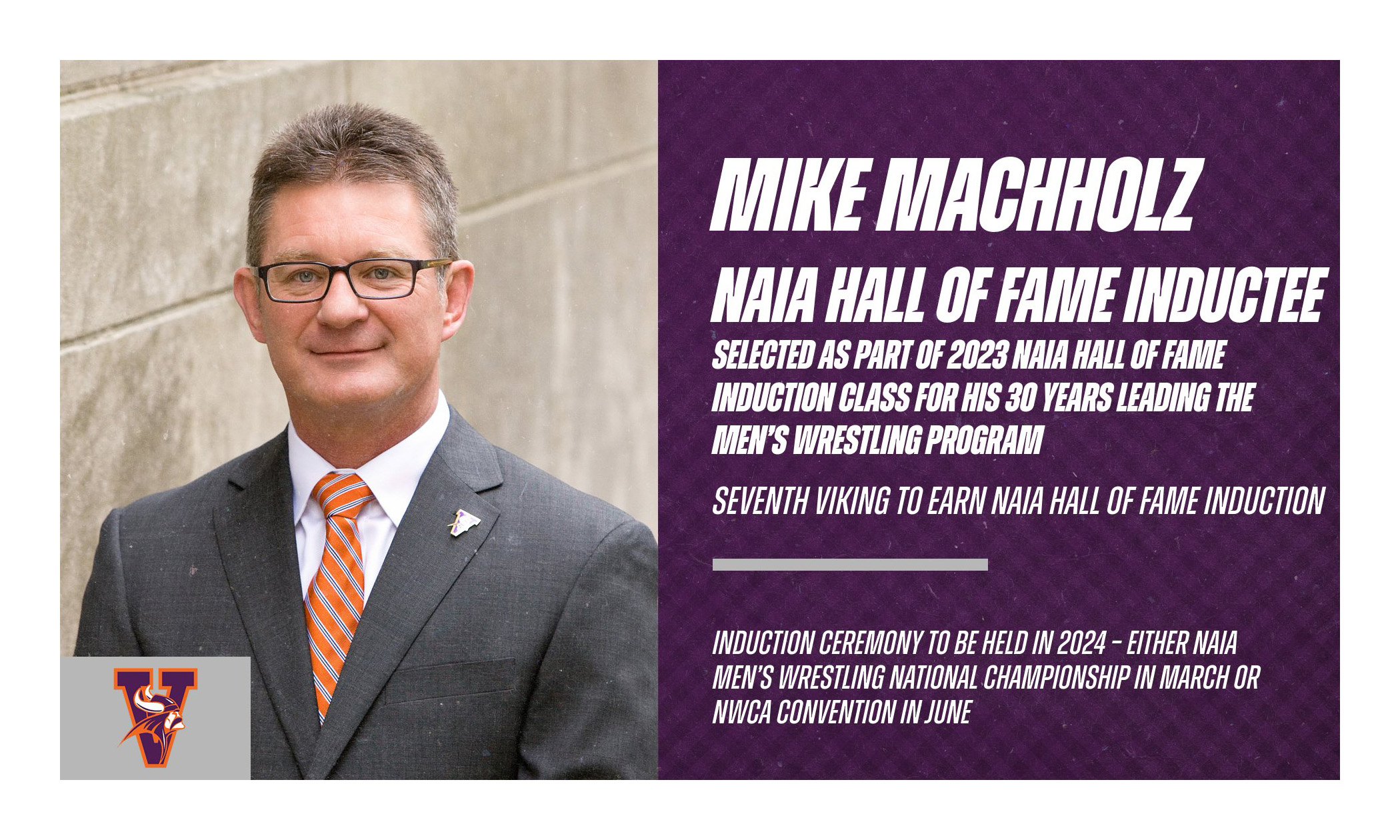 Machholz was selected for induction after his 30 years of work building and leading the men's wrestling program at Missouri Valley.  During his tenure, the program won three team National championships,  finished as National runner-up four times, won 11 regional championships, produced 17 individual National champions, 37 National finalists, 168 All-Americans and compiled a duals record of 224-115-2.  Machholz was a three-time National Coach of the Year award winner in the NAIA and was a nine-time Regional Coach of the Year.
In addition, Machholz was a two-time President of the NAIA National Wrestling Coaches' Association.  He also was a pioneer in developing the first varsity collegiate scholarship women's wrestling program in the country at Missouri Valley in 1999.  He guided the women's wrestling program to a US Open championship, the first collegiate program to accomplish the feat.  Machholz also produced 39 All-Americans in women's wrestling.  Earlier this year, Machholz was inducted into the Missouri chapter of the National Wrestling Hall of Fame.  He retired from coaching the men's wrestling program following the conclusion of the 2021-22 season, and was promoted to Athletic Director at Missouri Valley, assuming the role on July 1, 2022.
"This is a tremendous honor and one that I certainly treasure," said Machholz.           I have spent most of my adult life  trying to help make the NAIA and the sport of wrestling entities to be proud of, so this is really special to me.  For 30 years as a coach, I served on various committees with the NWCA, National, and NAIA, held leadership roles and fought to solidify wrestling within the NAIA, and to see that recognition is humbling and rewarding.  Most that know me understand that as a coach this type of honor was never the goal, but now that it has come to fruition I can truly say that this is a pretty awesome culmination of that part of my career!  Truthfully, though, this is just a reflection of the willingness of my administration to help me create a winning environment and the dedication of great assistant coaches combined with the commitment of the young men and women that came through our programs.  It's a very special day to be a Viking for me!"
In the past year, Machholz has been recognized by multiple other organizations for his championship coaching career.  In October of 2022, he was inducted into the Missouri Chapter of the National Wrestling Hall of Fame, and in February he and his 1996-05 teams were both inducted into the Missouri Sports Hall of Fame.
"There are dozens of people who represent Missouri Valley College wrestling, but Mike simply stands as one of the tallest and most accomplished," said President Dr. Joseph A. Parisi.  "Mike Machholz has a solid grip on Valley's legacy and pride, and he is carrying that legacy to the next generation as Athletic Director.  His integrity, his drive, and his love for Valley and wrestling success cannot be matched.  His passion for growing the sport and his commitment to the NAIA are unparalleled.  Mike is a hall of famer through and through."
Machholz will be formally inducted into the NAIA Hall of Fame at either of the 2024 NAIA Men's Wrestling National Championships in Wichita, Kan., in March, or at the National Wrestling Coaches' Association Convention in June.  He will become the seventh person associated with Missouri Valley College to earn induction into the NAIA Hall of Fame.  Previous inductees include Volney C. Ashford in 1959, Warren Harris in 1966, Hugh Dunn in 1972, Ken Gibler in 1989, Ron Hall in 2012, and Bobby Lashley in 2023.
About Missouri Valley College
Known for its dynamic, richly diverse, and friendly educational environment, Missouri Valley College offers many opportunities to grow in mind, body, and spirit. Grounded in the liberal arts, undergraduate studies empower students to master interdisciplinary skills needed to succeed in a knowledge-based global society. MVC offers over 30 academic programs, study abroad program, extracurricular activities, and a wide variety of sports. The most popular majors include education and business, criminal justice and exercise science. Above all, Valley is committed to student success. For more information, call (660) 831-4000 or visit www.moval.edu.
Share the Story