Fraternity Leaders Deepen Skills at Leadership Event
July 28, 2023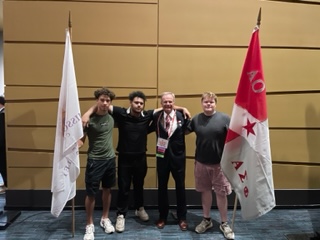 Three MVC Alpha Sigma Phi fraternity officers and the chapter advisor were among 900
enthusiastic attendees at the 2023 national leadership development conference held July 13-15
in Hartford, CN. Thanks to the financial support of the MVC fraternity alumni association the
three Valley men had their travel and room & board expenses covered for this important 3-day
immersion experience.
The officers engaged in chapter president, finance, recruiting and fraternity rituals trainings
tracks. There was also the opportunity for them to take additional seminars in personal finance
management and career preparation. The men will start applying their new learning
immediately in preparing for the start of the fall semester in August.
Alpha Sigma Phi's convention in Hartford is the third largest attended of the 78 men's national
fraternity events in the country held this summer. The highly successful national fraternity now
stands at 178 active chapters, including Missouri Valley.
PHOTO: L-R: Member Chase Buford (with MVC flag), Chapter President Larry Stewart, Chapter
Advisor Scott Brumburgh, and Chapter VP of Finance Alex Machetta (with chapter flag).
Share the Story