2021 Loren C. Gruber Endowed Honors Award
May 12, 2021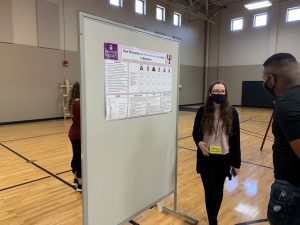 Chloe Garzon (Marshall, MO) has been awarded the Loren C. Gruber Endowed Honors Award for her Honors Thesis, "How Perceptions of Attractiveness Play a Role in Behaviors." She collected data that supports the conclusion that when a person perceives someone as more attractive, then they also tend to attribute positive characteristics to that person (friendliness, trustworthiness, likeliness to donate to charity, etc.). Additionally, they would be more likely to be helpful and friendly toward the person they perceive as attractive.
Garzon is a May 2021 graduate majoring in Psychology. She is in the process of applying to graduate programs in psychology and intends to pursue a Ph.D. in Psychology.
There was also an impressive list of other Honors Theses by our other graduating Honors Students for the 2020-2021 academic year, that were also considered for the Gruber Award including Anna Babiak ("How Propaganda Causes Media Bias"), Kali Christman ("The Relationship Between Stress and COVID-19 and Its Effect on Nurses"), Lauryn Daxon ("The Revitalization and Experimentation of the Duboscq Type Colorimeter (1940)"), Makenzie Lake ("Analysis of COVID-19 Infectiousness in Missouri and Arkansas"), Lakyn Lee ("Story of My Life"), Jocelin Linares ("Stability in Parenting and Relationships: The Effects of Parenting on Romantic Relationship Choice"), Yarden Silberman ("Effects of Unexpected Season Loss on Athletes' Motivation"), Sarah Spiers ("The Interpretation of Dreams from Different Cultures Throughout History"), Shanelle V. Tolley ("COVID-19 & the Effects of Single Use Plastic Waste Pollution at Missouri Valley College").
The Loren C. Gruber Endowed Honors Award was created by Dr. Loren C. Gruber, professor of English at Missouri Valley College. His final year of teaching at MVC coincided with the first year of the Honors Program (2012), and he created this endowed award to celebrate the research and creativity of the Honors Program students.
Share the Story